[vc_row no_margin="true" padding_top="0px" padding_bottom="0px" border="none" class="man pan"][vc_column width="1/1″ fade_animation="in-from-top" fade_animation_offset="300px"]
[/vc_column][/vc_row][vc_row no_margin="true" padding_top="0px" padding_bottom="0px" border="none" class="pan man"][vc_column width="1/1″]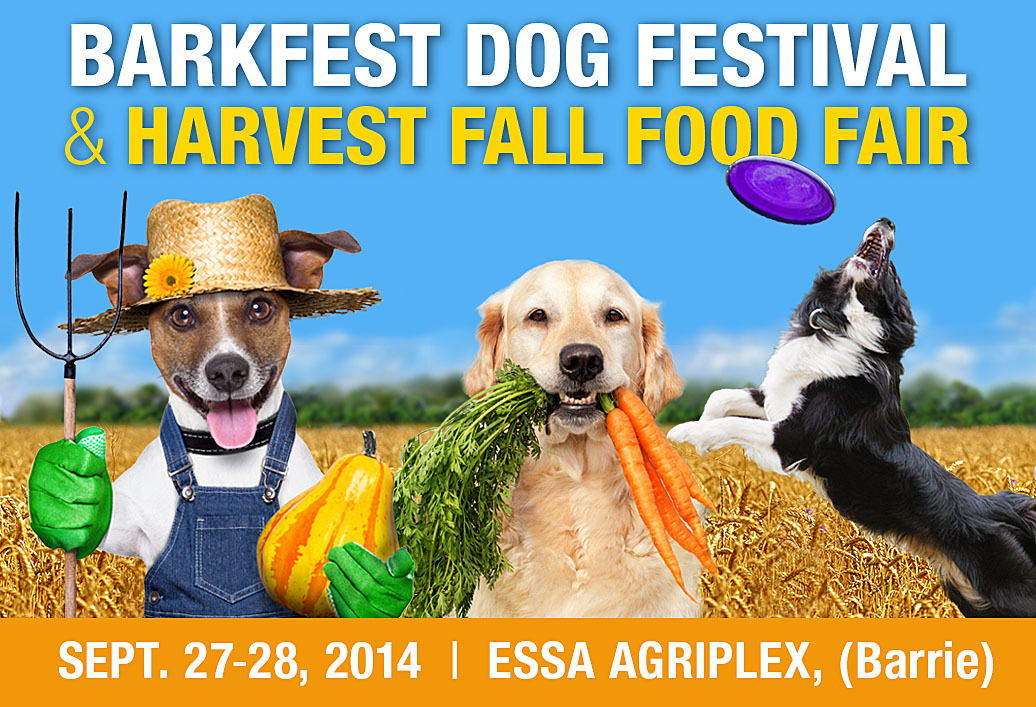 2 Great Shows in 1

Dates to be announced

10 am – 5 pm | Essa Agriplex
Admission: $10 each (max $20 per vehicle, parking included)
[/vc_column][/vc_row][vc_row no_margin="true" padding_top="0px" padding_bottom="0px" border="none"][vc_column width="1/3″]
---
Dates to be announced

10 am – 5 pm | Essa Agriplex
Admission: $10 each (maximum $20 per vehicle, parking included)

[/vc_column][vc_column width="1/3″]
Barkfest Dog Festival
A Howling Good Time!

B arkfest's Annual Dog Festival brings together dogs and their families from across Ontario. Laugh, play, eat and shop to your heart's content! Join us at the Essa Agriplex, just minutes S/W of Barrie.
Explore the many pet-friendly vendors & services
Visit a wide variety of dog rescue organizations
Sporting dog demos will keep you entertained all day long
Enter fabulous contests for prizes both you & your dogs will love
Stop by the 'Animal Blessings Tent' with your favourite companion
Take part in charity fundraisers & lots more!
Please remember: All dogs must be leashed and under control at all times.
[/vc_column][vc_column width="1/3″]
Harvest Fall Food Fair
Eat HEALTHY | Eat FRESH | Eat LOCAL
B ring your appetite and wander among scrumptious foods from local producers and talented chefs. Meet the farmers and agricultural experts. Hunt for farm-fresh produce, pumpkins, artisan cheeses, local honey and much more!
Support your local farmers
Buy artisanal foods, original art & crafts
Head on over for some tasty BBQ
Take part in specialty food contests
Visit horticultural displays for great home gardening ideas
Find the best pumpkins, garlic and apples
Check out the organic foods
* We are also seeking donations for our fundraising events and contest prizes. Please contact us for more information.

[/vc_column][/vc_row]